Have you ever wondered what's under your sink? Get to know your sink parts better.
One of the most common leaks is found under the sink. These sink parts are made from thin plastic and joined with "slip" joints that slip together (and eventually slip apart after enough time.)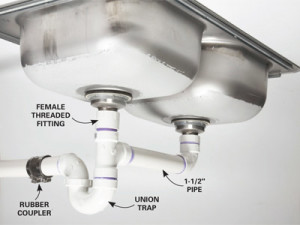 If you are getting a new kitchen sink consider this drain assembly.
Use thick "schedule 40" plastic PVC or ABS parts that are welded together with solvent cement. This type of assembly for your will last a long time, no matter how many times you bash it with the wastebasket. Be sure to install a union trap and rubber coupler so you can open the trap to clear clogs. The other parts may vary but in most cases you won't be spending a lot of money. It is also a worthy investment as you won't have to constantly be replacing older cheap pipes.
This type of job takes about two hours, if you do not have the patience to do this yourself you should contact your local plumber , so they could change out the drain assembly to your sink. Even the smallest leak under your sink can cause water damage or mold. Call your plumber today for a free estimate.